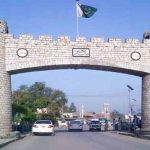 PESHAWAR: A full dress rehearsal for Pakistan's Defence Day was held at Peshawar's Karnal Sher Khan Stadium amid tight security here on Thursday.
Tent pegging and horseback riding skills were demonstrated amidst the presence of defence equipment. An illustration of operation against terrorists was also performed.
Furthermore, stalls of Pakistan Army, Pakistan Air Force (PAF), Pakistan Navy and Rescue 1122 were established in the stadium.
It is pertinent here to mention that Chief of Army Staff (COAS) General Qamar Javed Bajwa will meet the families of martyrs and ghazis on Defence Day (tomorrow).
Director General Inter-Services Public Relations (ISPR) Major General Asif Ghafoor had earlier tweeted, "Defence and Martyrs Day 6 Sep 2019. Like last year, let's reach out to families of our shaheeds. Every shaheed be remembered."
Major General Asif Ghafoor had also released the slogans of the Defence Day, "Ayein Chalain Shaheed Kay Ghar" and "Kashmir Banega Pakistan."
"The main ceremony regarding Defence Day will be held at the General Headquarters (GHQ) on September 6 in daytime instead of evening," the DG ISPR had informed.