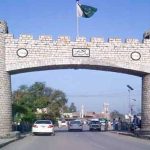 LAHORE: Funeral prayers of former cricketer Abdul Qadir was offered today (September 7) in Lahore which many political, sports, showbiz and other figures attended.
Newly appointed chief selector and head coach Misbah-ul-Haq, skipper Sarfaraz Ahmed, Babar Azam, former skipper Inzamam-ul-Haq, former leg-spinner Mushtaq Ahmed, Kamran Akmal, Salman Butt, Tauseef Ahmed, Basit Ali, Mansoor Rana and Azhar Ali also attended the funeral prayer of legendary spinner.
Comedians like Sohail Ahmed, Qaiser Pia along with political figures Ijaz Ali Shah and others attended the funeral.
On Sept 6, former leg-spinner Abdul Qadir passed away at age of 63 after suffering a cardiac arrest in Lahore, his family confirmed.
According to family sources, Abdul Qadir was taken to hospital immediately after suffering a heart attack where doctors declared him dead and informed that he left this world even before reaching the hospital. "My father never had a heart problem so it was sudden and shocking that he suffered a severe attack and could not survive," Salman Qadir expressed.
Abdul Qadir has served in several positions including chief selector at the Pakistan Cricket Board (PCB) as well as a commentator. He played 67 Tests taking 236 wickets and 104 One Day Internationals (ODIs) where he bagged 132 wickets representing the national team.
He started his career with a Test match against England in Lahore on December 14, 1977, and played his last Test against West Indies in Lahore on December 6, 1990. He played the first ODI against New Zealand in Birmingham on June 11, 1983 while playing his last ODI against Sri Lanka in Sharjah on November 2, 1993.
Abdul Qadir was born on September 15, 1955 in Lahore. He has four children, Rehman Qadir, Imran Qadir, Salman Qadir and Usman Qadir.
Qadir, who would have turned 64 on September 15, was one of favourites of former captain Imran Khan — now Pakistan's prime minister.
Qadir's unique dancing action was as attractive as it was destructive, spinning the ball prodigiously and had a lethal googly and a flipper.
Legendary Australian leg-spinner Shane Warne — the second highest Test wicket taker with 708 (only behind Sri Lanka's Muttiah Muralitharan's 800) — was also a big fan of Qadir.
Former Pakistan captains Wasim Akram, Moin Khan, Rashid Latif and Waqar Younis led the condolence messages, saying Qadir's death was "a great loss of Pakistan cricket".
"We have lost a great man who was an institution in himself," said Wasim who played alongside Qadir in the 1980s.
Cricket has Abdul Qadir to thank for keeping wrist-spin alive through the darkest years of the late 1970s and '80s.
Qadir's action was a wonderfully extravagant routine, and he admitted more than once that it was contrived as a spectacle to distract batsmen. Variety was the key; it was said he had six different deliveries per over.
Remember that Abdul Qadir's brother Ali Bahadur also played 10 first class matches in 1987-88.