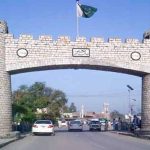 RAWALPINDI: General Asim Munir has took charge as the new chief of army staff at the change of command ceremony being held at the General Headquarters (GHQ) in Rawalpindi.
He passed the baton of command to Gen Asim Munir during the ceremony held at the General Headquarters (GHQ) Rawalpindi. The command stick of the Pakistan Army is made of traditional Malacca Cane.
General Asim Munir became the 17th army chief.
Prime Minister Shehbaz Sharif, President Arif Alvi, Defense Minister Khawaja Asif, federal ministers, and former and senior military officials were present at the ceremony, alongside former army chief Gen Raheel Sharif Kiyani.
Outgoing Chief of Army Staff (COAS) General Qamar Javed Bajwa handed over the "baton of command" to Gen Munir, who was chosen to lead the country's army by Prime Minister Shehbaz Sharif on November 24.
In his final speech as army chief, Gen Bajwa stressed the need for institutions to work together for the nation's progress.
He said that he was proud to be part of the bravest army in the world which never refrained from giving sweat and blood for the sake of the motherland.
In his farewell address prior to handing over command to the new chief, he wished new army chief Asim Munir for the future, saying that he is capable and would leave no stone unturned in performing his duties.
Ex-COAS said the army encountered many challenges including terrorism under his command and he is proud to be a part of it.