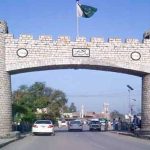 ISLAMABAD: Prime Minister Shahid Khaqan Abbasi has said that Chief of Army Staff (COAS) General Qamar Javed Bajwa had assured him of the continuation of democratic process.
Talking to journalists here, the Prime Minister has dismissed reports about collapse of the government.
He added that the government would complete its constitutional tenure.
He also threw away reports on rift within the Pakistan Muslim League-Nawaz (PML-N) adding that there was only difference of opinion within the party.