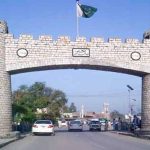 KARACHI: Gold price is continuously rising in the country and the current price of the yellow metal stands at Rs 89,000 per tola after an increase of Rs 400 per tola.
In local market, 10 gram gold was sold at Rs 76303 with an increase of Rs 343.
In international market gold price touched $1535 per ounce with an increase of $5 per ounce.
On the other hand silver price for 1 tola and 1g remained stable at Rs 1100 and Rs 943 respectively.