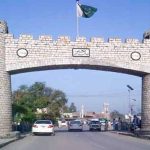 ISLAMABAD: Federal government on Monday agreed to conduct population census from March 15 next year.
The summary pertaining to conclude the census in two months has been sent to Council of Common Interests (CCI) for final approval.
Attorney General Ashtar Ausaf Ali has said that unofficial consultation in the matter has been done whereas the federal government has also agreed upon it.
He further said that unofficial discussion has also been held with the provinces.
The decision came after Supreme Court on Thursday directed to conduct population census on March 15, 2017.
SC expressed resentment over the government for delay in carrying out the census and not finalizing any date.
The last census was carried out in 1998 when the population was counted at 132 million people.
It is since believed to have crossed the 200 million mark, an estimate based on figures from yearly growth statements issued by the country's statistics bureau and survey work, making Pakistan the sixth most populous country in the world.
The census would cost 14.5 billion Pakistani rupees ($145 million) with the preliminary findings available in June 2016 and the final results issued in December 2017.
Pakistan was due to conduct a census in 2008 and 2010 but political unrest, conflict, and natural disasters contributed to delays.
The census is also a sensitive issue politically because it determines the amount of development budget allocated to each of the country's provinces.