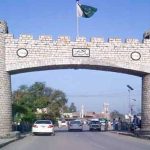 KARACHI: The Khyber Pakhtunkhwa Governor Sardar Mehtab Ahmad Khan here on Saturday said that the government attaches top priority to safe return of Internally Displaced People, their resettlement and reconstruction of the affected areas.
Addressing a grand jirga of Karachi based tribals in Karachi, the Governor said all available resources are being utilized for the phased return of IDPs. He said Federal Government has allocated hundred billion rupees in the budget for the return of the IDPs. Moreover, sixty crore rupees have been released from the Annual Development Programme to provide clean drinking water, electricity and other basic facilities to the returning IDPs.
Sardar Mehtab Ahmad Khan said operation Zarb-e-Azb, Khyber-one and Khyber-two were launched to eliminate terrorists and maintain durable peace in the country.