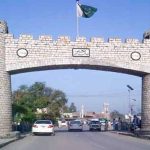 KHAR: Prime Minister Imran Khan has said that the people of tribal districts had tendered great sacrifices for Pakistan adding that the government has decided to allot three percent of provincial NFC for the development of tribal districts.
PM Imran Khan was addressing a public rally in Bajaur Agency here on Friday. He thanked the people of Bajaur district on making the inaugural Jalsa of Prime Minister a big success.
The premier assured the residents that internet service will be provided in Bajaur district.
"Democracy is not in danger, big dacoits are in danger," said the Prime Minister, adding that Charter of Democracy is basically Charter of Corruption. "No one will get NRO, no deal will take place with the corrupt people," he made it clear.
PM Imran Khan said that Pakistani does not want war but our desire for peace should not be misconstrued as weakness.
Imran Khan said, "For the progress and betterment of Pakistan, I'm ready to hold talks with Indian Prime Minister Narendra Modi."
Imran Khan said, "We don't want War, we want Peace, we want to open the doors of Trade, but our wish for Peace should not be considered our weakness, we know how to defend the country and we already have."
Imran Khan lauded Pakistan Air Force defending the country.
He went on to say, Indian political party is cashing the hatred for their political gains in upcoming election.