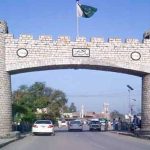 ISLAMABAD: Senate Chairman Raza Rabbani on Monday said that the capital has been under lockdown since the past 14 days but no one in the government seems to care.
Addressing a ceremony here, Rabbani expressed displeasure at the state's helplessness in tackling the sit-in led by a religious organisation demanding the resignation of the law minister.
"There can only be politics if there is a state. Politics will go in the right direction if society takes a right path. But if warlords will control society, neither the state nor any institution will exist," he said.
Earlier today, Leader of the Opposition in National Assembly Khursheed Shah also criticised the ruling party and said the that prolonged Faizabad sit-in indicates that the government has lost its writ in the country.
The religious parties have been protesting against the change in the finality of Prophethood oath in the law when the government passed the Elections Act 2017 last month. The change, dubbed a clerical error by the government, was immediately fixed as an amendment and was passed later.
However, the protesters have demanded that Law Minister Zahid Hamid, who introduced the bill, resign–a demand which the government has refused to accept.