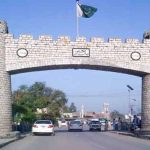 ISLAMABAD: The federal government has increased traffic fines for committing violations on motorways and national highways.
According to a notification issued by the Communication Ministry, over-speeding fines for motorcycles, cars, Public Service Vehicles (PSVs) and heavy transport vehicles (HTVs) have been surged to Rs1,500, Rs2,500, Rs10,000 and Rs5,000 respectively.
Commercial vehicles will be fined Rs10,000 for overloading. Rs1,500 and Rs3,000 will be fined to motorbikes and commercial vehicles respectively for wrong overtaking.
Fines of Rs5,000 and Rs10,000 will be slapped on motorcycles and commercial vehicles respectively for dangerous driving. Improper U-turns will cost Rs1,000 to bikes and Rs3,000 to commercial vehicles.
Car drivers will have to pay fine of Rs1,500 for not fastening seatbelts, and commercials vehicles will be fined Rs3,000 on the same offense. Wrong parking will cost Rs750.