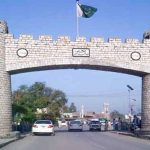 ISLAMABAD: Speaker National Assembly Asad Qaiser has expressed the resolve to undertake legislation to protect rights of the disabled people.
Addressing a ceremony in connection with "World Day for Disabled" in Islamabad on Tuesday, he said a special parliamentary committee with representation from the Upper and the Lower Houses will soon be constituted for this purpose.
The Speaker said ramps will be constructed in the Parliament House to make the building accessible for disabled people.
He said National Assembly's website will be made readable for visually impaired people. He said efforts will be made to ensure job quota for special persons.