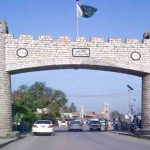 ISLAMABAD: Minister of State for Finance Rana Muhammad Afzal has said that the government had no programme to revert to International Monetary Fund (IMF).
Addressing a news conference in Karachi on Thursday morning, he said economic outlook of the country was positive and agriculture would have more share in the GDP growth this year.
He said the government would make efforts during next six months to leave the country in healthy condition financially before next elections.
The Minister of State said import of unnecessary goods was being reduced and exports had increased by 17 percent in the last five months.
Afzal hoped that fiscal deficit would come down in the days to come.
He said the country had foreign exchange reserves of 19.7 billion dollars.
To a question, the minsiter said Pakistan wanted to resolve all issues with the United States through dialogue.
Afzal went on to say that Pakistan would satisfy the United States on every objection.
He said instability in Afghanistan was not in the interest of Pakistan.
Afzal added said Pakistan was erecting barbed wire on border with Afghanistan to prevent illegal cross border movement.