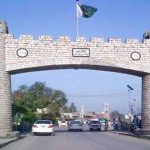 ISLAMABAD: Leaders of the religious parties staging a sit-in protest at the Faizabad Interchange in Islamabad decided to call off their protest after reaching an agreement with the federal government.
Federal Interior Minister Ahsan Iqbal and Federal Interior Secretary Arshad Mirza signed the agreement from government's side while Allama Khadim Hussain Rizvi, Pir Afzal Qadri and Muhammad Waheed Noor signed the agreement from on behalf of the religious parties.
It was also decided in the agreement that persons detained by the government from across the country during 22-day protests would be released within three days and cases against them would also be withdrawn.
Earlier, Zahid Hamid resigned as Federal Law Minister in face of countrywide protests and Faizabad sit–in by religious parties over the Khatam-e-Nabuwwat clause fiasco.
According to reports, Zahid Hamid has tendered his resignation and is waiting for its approval by Prime Minister Shahid Khaqan Abbasi.
Earlier on Sunday, civil and military leaderships decided not to use force against the Tehreek Labaik Pakistan (TLP) protesters staging a sit-in at the Faizabad Interchange of the twin cities of Rawalpindi and Islamabad. It was also decided that Rangers, not the army, will be deployed to deal with the sit-in issue.