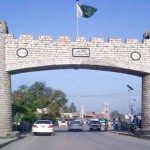 RAWALPINDI: Caretaker Minister for Information and Broadcasting Syed Ali Zafar has expressed the government's resolve to counter the anti-state elements' plan to derail electoral process.
Addressing a function at Rawalpindi High Court Bar Association today, he said elements have been involved at domestic and external level to sabotage elections.
The Minister stressed the need for foiling designs of anti-statement elements through unity at national level.
He said the federal government, provincial governments, intelligence agencies, law enforcement agencies, political parties and the civil society should have one direction to hold elections peacefully.
Syed Ali Zafar categorically stated that elections will be held on 25th of this month.
He said he has interacted with the Election Commission of Pakistan (ECP) many a time and is quite satisfied with the steps being taken by the commission to conduct elections in a transparent manner.
The Caretaker Minister said they cannot take long-term decisions; however will definitely leave behind guidelines in various sectors including water resources for the upcoming elected government.