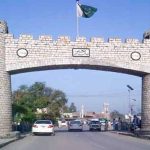 The ruling Pakistan Muslim league led coalition government on Sunday ruled out talks with the rival Pakistan Tehreek-e-Insaf, which it believes follows confrontational politics.
"Talks are not held with terrorists. Politicians talk to politicians, Information Minister Marriyum Aurangzeb said at a presser on Sunday which was centred on the government's flour relief and the political situation following the Zaman Khan operation and Islamabad clashes.
"Those who have Kalashnikovs, batons, and slingshots in their hands are not eligible for talks," she said when asked about the government's attempt to engage the PTI as the opposition always keeps an anti-government policy.
The government and police have claimed that weapons and petrol bombs were recovered after a raid at Khan's residence in Lahore. They also claimed that terrorists were also present there.
Interior Minister Rana Sanaullah said on Saturday that the government would consult its legal team for the assessment of initiating a process to declare PTI "proscribed"–a demand made by PML-N leader Maryam Nawaz on Friday.
But, according to him "enough evidence" were found to file a reference against Khan's party.
The two federal cabinet members slammed the former prime minister for skipping court hearings multiple times and treating his political opponents unfairly during his tenure.
Marriyum compared the treatment given to Khan by the court and her party leaders when they attended court in different cases.
"A day before yesterday we saw eight bails [granted to Khan] in eight minutes," the information minister said as she claimed that the PTI chairman was the only person in the country's "history" to be given the most relief by courts.
Khan is facing more than 80 cases, including one pertaining to state gifts. The government claims the former prime minister sold such gifts. But details pertaining to the Toshakhana–state gifts depository–showed that previous leaders retained and purchased gifts.
Imran, others booked on terror charges
The Islamabad police have registered a first information report against PTI Chairman Imran Khan and more than a dozen leaders for allegedly damaging state machinery, causing millions of rupees in losses to the state, threatening policemen, and creating chaos.
The case was registered by Ramna Police Station House Officer (SHO) Malik Rashid Ahmed at the Islamabad Counter Terrorism Department on Saturday, the same day when Khan left for Islamabad to appear in court.
It merits here to mention that the administration had imposed Section 144 (ban on gathering of more than five people) of Code of Criminal Procedure in Rawalpindi
The FIR was registered under sections 148 (rioting, armed with a deadly weapon), 149 (every member of unlawful assembly guilty of offence committed in prosecution of common object), 186 (obstructing public servant in discharge of public functions), 353 (assault or criminal force to deter public servant from discharge of his duty), 380 (theft in dwelling house, etc), 395 (punishment for dacoity), 427 (mischief causing damage to the amount of fifty rupees), 435 (mischief by fire or explosive substance with intent to cause damage to amount of one hundred rupees), 440 (mischief committed after preparation made for causing death or hurt) and 506 (punishment for criminal intimidation) of the Pakistan Penal Code.
It also invoked Section 7 (punishment for acts of terrorism) of the Anti-Terrorism Act (ATA), 1997.
SHO Ahmed said that the PTI chief along with 17 other PTI leaders violated Section 144 and blocked the road for traffic.
PTI Secretary General Asad Umar, former deputy speaker Asad Qaiser, leaders Hammad Azhar, Ali Amin Gandapur, Ali Nawaz Awan, Murad Saeed, Shibli Faraz, Hassaan Khan Niazi, Omer Ayub Khan, Amjad Khan Niazi, Khurram Nawaz, Jamshed Mughal, Aamir Kiyani, Farrukh Habib, Dr Shehzad Waseem, Umer Sultan and Imran's Chief Security Officer retired lieutenant colonel Muhammad Asim were named in the FIR.
"A mass of people, part of cavalcade of Imran Khan Niazi entered the city from the wrong side and violated Section 144. They chanted slogans and hurled stones while entering Dhok Kashmirian police post," it said.
The FIR also named 18 people involved in causing damage to the Federal Judicial Complex (FJC), 22 others involved in causing damage in the FJC's parking area and lighting up fires, and 19 others involved in allegedly injuring police officials. It also mentioned that stones, lighters and bottles filled with petrol were recovered from some of them.
"Two government-owned vehicles and seven motorcycles that were parked in the parking area were torched by some miscreants," it said. While a government-owned vehicle was completely damaged after miscreants attacked it with batons and hurled stones. It alleged that they also stole a wireless set installed in the car, 9mm pistol, and Rs20,000 cash from the vehicle.
"Total 16 government and police vehicles and four motorcycles in the parking of the JDC were damaged," it said, alleging that protesters snatched eight anti-riot kits from the policemen, hit police officers with sticks, and hurled stones at them.
PTI workers were armed with stones which they threw at a checkpost of the Dhok Kashmirian police station, SHO Ahmed claimed. They also burnt down barriers and tents at the checkpost.
"The charged crowd then surrounded the Judicial Complex from four sides, broke down its main gate, and then stoned the building until its windows were shattered," the complaint stated.