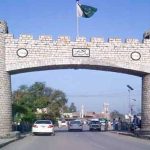 PESHAWAR: The federal government is spending five billion rupees on the reconstruction and rehabilitation of damaged infrastructure in Federally Administered Tribal Areas (FATA), sources said Friday.
According to sources of FATA Secretariat, the amount will be spent on the repair of damaged schools, hospitals, clean drinking water supply schemes and levy's check post.
These infrastructures were damaged during terrorist acts in tribal areas during the last few years.