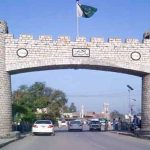 ISLAMABAD: The caretaker federal government has decided not to collect sales tax on electricity and manufacturing and income tax on profits in business from the FATA and PATA areas as part of implementation of tribal areas' merger with Khyber Pakhtunkhwa.
This was stated by caretaker Minister for Information and Broadcasting Syed Ali Zafari while briefing the media about decisions taken in the cabinet's meeting held in Islamabad on Wednesday with Prime Minister Nasirul Mulk in the chair.
Syed Ali Zafar, who heads Implementation Committee on FATA's merger, said there will be no customs duty on non-duty paid vehicles for five years after their registration.
The Minister said the governor Khyber Pakhtunkhwa will promulgate an ordinance within two days to settle legal matters regarding FATA's merger with KP.
He added that accountability court could be shifted to somewhere else due to security concerns.