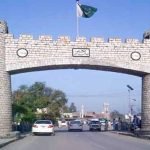 PESHAWAR: The KP Information Technology Board has announced to establish six new Information Technology parks in the province. The decision was taken during a high-level meeting called to discuss further expansion of IT parks in the province. The meeting was chaired by Khyber Pakhtunkhwa IT board Director Asim Jamshed.
The participants were consulted on the establishment of six more IT parks and were briefed about the new Parks model. According to details of the plan, new IT parks will be set up within the universities, which will benefit the IT sector, provide new research opportunities and employment opportunities for the youth.
Representatives of universities offered suggestions for further refining the new IT parks model, while Imran Khan, director of the IT board, gave a briefing to the participants regarding the new IT parks model.
On the occasion, Asim Jamshed, director of the KP Information Technology Board, said the new on-campus model created by the IT board would reduce the distance between universities and the IT industry.