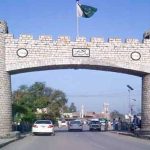 KHAR: Khyber Pakhtunkhwa Information Minister Shaukat Yousafzai on Tuesday said that the government would remove sense of deprivation among the people of tribal districts.
He was talking to tribal elders during his visit to Bajaur. He assured the tribal elders that the jirga system would be further strengthened in the tribal districts. He paid tributes to the tribesmen for their sacrifices in restoration of peace in the regionHe said the government will specially focus on health and infrastructure development schemes in the tribal districts.
The tribal elders thanked the government for abolishing the FCR and assured the provincial government their support for mainstreaming the tribal districts.
Shaukat Yousafzai also visited the Bajaur Press Club where he administered oath to the newly elected office holders of Bajaur Press Club and Tribal Union of Journalists. He said the journalists of Bajaur will get accreditation cards and Sehat Insaf Card as well for their free medical treatment.
He said annual grant will be provided to Bajaur Press Club while its old building will also be restored.