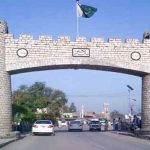 ISLAMABAD: Pakistan Muslim League-Nawaz leader Ahsan Iqbal said on Sunday that the government's entire functioning is based on lies and it is propagating politics of hatred and arrogance.
The PML-N leader gave a statement after party President Shehbaz Sharif returned to the country.
PML-N senator Pervaiz Rasheed said that politics should not be done on Shehbaz Sharif's health and he can again go abroad due to health-related issues.
PML-N Spokesperson Marriyum Aurangzeb said that Prime Minister Imran Khan's days of ease are numbered as Shehbaz Sharif has returned.
Marriyum Aurangzeb said Prime Minister Imran Khan can no longer make people fool on the basis of a fake narrative.
She further said that Shehbaz Sharif is one of those alleviating the condition of the country and the public loves him.
The PML-N leader said that PM Imran will have to answer to Shehbaz Sharif about his incapability.
PML-N President Shehbaz Sharif returned to the country early Sunday after spending seven weeks in London.
Shehbaz who spent seven weeks in London for medical treatment was cleared to travel by his doctors.
Before leaving for Pakistan from London, Shehbaz vowed to take legal action against the ones spreading baseless news regarding his return to the country.
Shehbaz said consultation would be held with opposition parties during a session of the National Assembly on Monday. He added he was ready to face every action taken against him by the government.