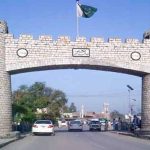 ISLAMABAD: A case has been filed against anchorperson Hamid Mir over allegedly abducting an employee of an intelligence agency.
According to details, a First Information Report (FIR) has been filed against the anchor of a abductor Khalid Khawaja.
The case has been filed in Ramna Police Station.
Mir was accused of abducting the murdered retired officer of the intelligence agency.
A case has been filed against Mir under Section 365 of the Pakistan Penal Code.
Earlier, Khawaja's widow had filed a petition against Mir, nominating him in the case.