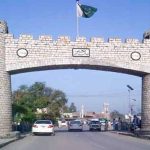 LAHORE: Actor Hamza Ali Abbasi on Tuesday donated Rs300,000 to the account set up on orders of the Supreme Court to fund the construction of Diamer-Bhasha and Mohmand dams.
The Supreme Court on Wednesday directed authorities concerned to construct the two dams on priority basis. The judgement stated that water is necessary for the survival of the country and public.
In pursuance of the top court's order, the finance division has opened an account under the title of 'Diamer-Bhasha and Mohmand Dam Fund–2018' to facilitate the construction of dams in the country. The audit of the fund will be carried out under the supervision of the apex court.
Chief Justice of Pakistan Justice Saqib Nisar donated Rs1 million to the fund. He also expressed satisfaction over the public response to the bank account opened for the construction of dams in the country.
The military's media wing, Inter-Services Public Relations (ISPR), also announced the armed forces would contribute to the account.
The payments in to the aforesaid fund will be received at all branches of the State Bank of Pakistan, all treasuries and branches of National Bank of Pakistan and all other scheduled banks.
The fund may receive donations from both domestic, international donors and contributions from abroad which will be received at all branches of above-mentioned banks where such branches exist.
In other foreign countries contributions will be received at Pakistan Missions and remitted to the State Bank of Pakistan which would prescribe necessary accounting procedure.