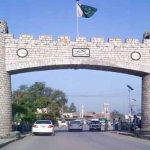 NORTH WAZIRISTAN: An FIR has been registered against 12 members of Pashtun Tahafuz Movement including MNA Ali Wazir in Shewa police station of North Waziristan district.
According to details, the accused chanted slogans against the security forces during a protest few days back.
Speaking at a rally in Wana last month, Prime Minister Imran Khan said the people who are creating unrest among tribal youth are getting money from abroad.
He was addressing a gathering at the Cadet College Spinkai, which was packed with notables and elders of the Mahsud tribe and the office-bearers and activists of Pakistan Tehreek-e-Insaf (PTI).
The development came a week after the press briefing of DG ISPR Major General Asif Ghafoor in which he shared the information about links of the PTM with Afghan and Indian spy agencies.