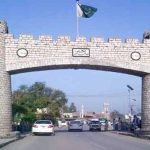 QUETTA: A man belonging to the Shia Hazara community was killed in a drive-by shooting in Quetta on Wednesday.
Quetta Deputy Inspector General (DIG) Abdur Razzaq Cheema said gunmen riding on a motorcycle opened fire at an auto parts shop on Wednesday, killing the shopkeeper on the spot. DIG Cheema said the shopkeeper was from the Hazara community and that it appeared to have been a targeted killing.
No one has claimed the attacks so far.