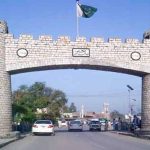 RAWALPINDI: Model Ayyan Ali was presented before the customs court in Rawalpindi for the 13th time today (Monday) but the proceedings for her indictment could not be initiated due to absence of the judge.
The model was brought into the court from Adiala jail in armored vehicle in wake of security concerns.
Special judge customs Rana Aftab Ahmed was on leave as a result of which the hearing of the case was adjourned for 15 days.
The suspect will be presented before banking court's judge Sabir Sultan who as duty judge will decide the date for next hearing.
On reaching the court, Ayyan Ali was also presented Eid gifts by one of her fan.
On the other hand, hearing of the case against using money laundering word in Ayyan's case will be conducted after sometime by a two-member bench today in Lahore High Court (LHC).
Ayyan's lawyer submitted a petition in the court in which it has been stated that 'money laundering' provisions are not registered in the case but the word has been used in trail court's decision.
The petitioner requested the court that orders should be issued to expunge 'money laundering' word from the case.