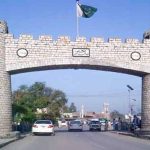 PESHAWAR: The Hindu community along with Rajput Welfare Working Committee on Sunday protested against Indian aggression at Line of Control (LoC) outside Peshawar Press Club.
The protesters while holding Pakistani flags chanted slogans against Indian government and pledged support to the Pakistan Army.
They said that they are ready to fight against enemy and sacrifice their lives for their dear homeland.
Earlier, a rally chanting 'Bharat Murdabad' was held in Loralai in which the participants expressed outrage over India's senseless act of hostility.
The school going children were also seen taking part in various rallies to register their protests and anger against furious India in Sukkur.
Tensions between the two arch rivals have been boiling since the Indian government accused Pakistan-based militants of launching an assault on an army base in Kashmir earlier this month that killed 18 soldiers.
India said on Thursday it had carried out "surgical strikes" in Azad Kashmir, a claim that Pakistan condemned and denied.
On the same day, two Pakistani soldiers were martyred when Indian forces opened unprovoked firing in Bandala sector and Poonch's Batal sector.
"This is a dangerous moment for the region," Pakistan's Ambassador Maleeha Lodhi told AFP after meeting with UN Secretary-General Ban Ki-moon at UN headquarters in New York.
Ban Friday offered to act as a mediator between New Delhi and Islamabad to defuse the tensions.
India and Pakistan have fought three wars since they gained independence from Britain seven decades ago, two of them over the disputed Himalayan region of Kashmir.