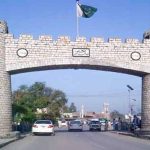 LAHORE: Lahore High Court (LHC) expressed displeasure over the attitude of Punjab police in Zainab's murder case as the provincial police chief skipped today's proceedings.
The hearing was conducted as the 36-hour deadline, given to police by the high court to arrest the culprit behind Zainab's murder, expired without any progress in the case.
The court in the morning had summoned Punjab Inspector General Police (IGP) Arif Nawaz to appear before the bench at 12:30pm today.
However; the police chief did not appeared in court.
The court also observed had the police taken action in 2015 ─ when the first case against a serial killer was reported in Kasur ─ the rape and murder of six-year-old Zainab would have been prevented.
The court remarks came when Punjab's Forensic Science Agency submitted a report to the court, stating that DNA tests had confirmed that the same serial killer had raped and murdered Zainab, who was responsible for other similar cases in Kasur.
The court further remarked, "If you had taken action at the time, Zainab's case could have been prevented."
The additional advocate general, also present during the hearing, told the court that 108 cases of rape were pending before the sessions courts in Kasur.
He added eight of the most recent cases had not been traced as yet.
"These cases should be heard on a daily basis," the chief justice said, as he sought Zainab's complete medical reports.
Zainab went missing on January 4; however, her tortured body was found a few days later in a garbage of heap in the city.