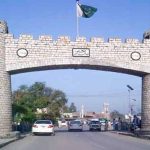 LAHORE: Despite the federal government's reservations over the filing of a sedition case against former prime minister Nawaz Sharif and other PML-N leaders, the Punjab government has formed a Joint Investigation Team (JIT) to probe the matter.
Inspector General of Police Inam Ghani has formed a four-member JIT, headed by CIA Superintendent of Police Iftikhar Kamboh, to investigate the case. The team has formally launched the inquiry into the matter. The other members of the team are DSP Shafiqabad Ghiasuddin Sheikh, Incharge CIA Iqbal Town Tariq Kayani and Incharge Shahdra Police Station SI Shabbir Awan.
The opposition parties have slammed the move and termed it as an attempt by the PTI government to thwart the campaign launched jointly by them under the banner of Pakistan Democratic Movement.