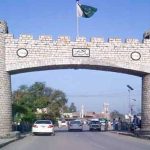 ISLAMABAD: The Islamabad High Court (IHC) dismissed on Thursday former prime minister Nawaz Sharif's son-in-law Captain (retd) Safdar's petition challenging his impending indictment in a corruption reference.
Capt (retd) Safdar, through his counsel Amjad Pervez, filed a petition earlier in the day in the IHC pleading it to stop the accountability court from indicting him on October 13 (tomorrow).
In his petition, Safdar stated that according to the law, a period of seven days is allowed before indictment.
Hearing the matter, a divisional-bench including Justice Athar Minallah and Justice Miangul Aurangzeb declared the petition non-maintainable.
The bench asked the petitioner's counsel if there is any Supreme Court order stating that charges cannot be framed before seven days, to which the counsel replied in the negative.
Nawaz, his daughter Maryam, and son-in-law MNA Capt (retd) Safdar are expected to be indicted by the accountability court hearing corruption cases against them on Friday.
At the last hearing, on October 9, the accountability court approved the bail of Maryam and Safdar after they appeared in court.
Judge Mohammad Bashir also approved the National Accountability Bureau's (NAB) plea to declare Nawaz's sons, Hasan and Hussain, proclaimed offenders and separated their proceedings in the three references filed against them. Their non-bailable arrest warrants, issued at the last hearing on October 2, remain in effect.
The accountability court is hearing a total of three corruption cases against the Sharif family filed by NAB in light of the Supreme Court's judgment in the Panama Papers case.
At the last hearing, the court also approved Maryam and Safdar's bail in the Avenfiled properties case and ordered them to submit surety bonds worth Rs5 million each.
Earlier today, IHC dismissed Finance Minister Ishaq Dar's petitions challenging his indictment and trial by the accountability court hearing a corruption reference against him.
During today's hearing, the court observed that the petitioner should take up any objections with the monitoring judge of the Supreme Court, which had ordered the corruption reference to be filed against Dar for owning assets disproportionate to his known sources of income.