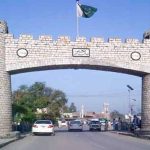 ISLAMABAD: The Islamabad High Court has dismissed a petition on Wednesday challenging the arrest of anchor Imran Riaz Khan in Attock saying it did not have jurisdiction to hear the case.
The media personality, Imran Riaz, was arrested by the Attock police early Wednesday morning, and as he was walked to a police vehicle he shouted 'Pakistan Zindabad'.
It is being reported that Mureed Abbas, a resident of Attock, had filed a case against Imran Riaz on charges of damaging the reputation of national security agencies. The Attock police confirmed the arrest. Imran Riaz runs a YouTube channel in which he has posted opinion vlogs about the army, politics and the government.
A hearing against his late-night arrest took place after 10am on Wednesday in the court of Islamabad Chief Justice Athar Minallah. Imran Riaz's lawyer maintained that his client was arrested within the limits of Islamabad and 17 cases were registered against him. This was against an earlier instruction from the court. However, Chief Justice Athar Minallah said that the court had talked about arrests from Islamabad and in this case, the Punjab and not the Islamabad police made the arrest.
Justice Athar Minallah replied that Imran Riaz was arrested in Attock and hence the Islamabad High Court did not have jurisdiction. The Lahore High Court could look into the matter instead, he said. This court cannot investigate Punjab, Chief Justice Athar Minallah said. He disposed of the petition, saying that no observation would be given.
It is in your interest to approach the Lahore High Court, Justice Minallah said.
Journalists were outspoken in their condemnation of the arrest and legal experts stressed that all citizens deserved due process. "We don't owe hatemongers and propagandists like Imran Riaz respect," tweeted Reema Omar, a legal expert. "But the State owes him due process and must ensure his human rights. Why has he been arrested in this manner, at this hour? Sedition or similar charges for his views are condemnable and anathema to free speech."
Anchor Kamran Khan tweeted: "With sinking approval rating Shahbaz Govt is in a state of Panic. Onslaught against freedom of speech continues with arrest of Imran Riaz Khan tonight just a few days after an attack on Ayaz Amir Sb also in Islamabad. The capital now most dangerous territory for critics of Govt."
Explanation: Background to the arrest
Imran Riaz Khan is counted among a group of media personalities who have become vocal supporters of former PM Imran Khan especially since he was removed in April 2022 in a no-confidence vote in parliament. These personalities may have been part of mainstream media at one point, but then branched off to use platforms such as YouTube to get their point across.
Imran Riaz started his own YouTube channel on April 15, 2020 and now has 3.12M subscribers who have watched his videos 844M times. He recently posted videos focusing on the Army and Sharif family. For example, on July 4, 2022, he posted a video titled: COAS General Bajwa's Order: Is the Army Apolitical?
Media personalities such as Imran Riaz have thus become lesser actors in a greater tension between politicians and the State, underpinned by debate on the limits of free speech in Pakistan. It is widely understood that bald criticism of state institutions that falls outside the ambit of credible balanced reportage runs aground.
Condemnation from Imran Khan
Imran Khan has condemned the arrest. The PTI has decided to hold a protest against Imran Riaz's arrest and Asad Umar told party workers to head to press clubs across the country.
According to sources, SHOs of 15 police stations had been called in for the arrest.