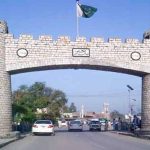 ISLAMABAD: The Islamabad High Court (IHC) on Monday at 11:30am has summoned the Interior Minister Ahsan Iqbal and interior secretary over non-implementation of its order to immediately bring to an end the Faizabad Interchange sit-in.
Justice Shaukat Siddiqui expressed his reservations over the attitude of the government saying that the government did not implement his order despite his clear-cut verdict to administration to end the sit-in protest.
The judge said that he would issue a 'contempt of court' order in this connection.
Meanwhile, commuters in the twin cities continued to face difficulties as the sit-in at Faizabad Interchange staged by religious parties entered fifteenth day today.
On the other hand, the Interior Minister has convened an emergency meeting of religious scholars belonging to all schools of thought over the ongoing protest.
The consultative meeting, to be held today, is the latest effort on behalf of the government to bring the protest to a peaceful end.
However, the minister Ahsan Iqbal said that operation, though is last option to disperse the protesters, was possible anytime against Islamabad sit-in.