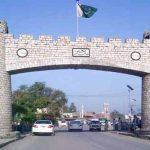 ISLAMABAD: The Islamabad High Court extended on Friday the suspension of NADRA's notification on the cancellation of JUI-F leader Hafiz Hamdullah's citizenship.
The case was heard by Chief Justice Athar Minallah on Friday. He reserved the verdict after hearing the arguments of the petitioner and respondents.
NADRA, in its argument, said that it doesn't have the authority to cancel anyone's citizenship. We found no family link or old record on his CNIC, it added.
On December 12, 2018 a security agency had said that Hamdullah was an Afghan national. It even presented a reported stating that all of Hamdullah's documents are fake, the authority told the court.
On October 27, 2019 NADRA revoked Hamdullah's citizenship and declared him an alien. He was accused of "fraudulently obtaining" his identity card. The JUI-F leader had challenged the step in the Islamabad High Court.
The court suspended NADRA's notification on October 29, 2019.