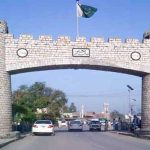 ISLAMABAD: The Islamabad High Court (IHC) Monday stopped Sindh and Balochistna police from taking action against former interior minister Sheikh Rashid Ahmad in cases registered in Karachi and Hub.
The Islamabad high court single bench headed by Justice Tariq Mahmood Jahangiri heard the petition of the Awami Muslim League chief Sheikh Rashid.
The counsel for Sheikh Rashid said that despite court's stay order against action over police summons, the Islamabad police arrested him, adding that when he was Islamabad police custody, the Karachi police registered an FIR against Sheikh Rashid Ahmad.
Justice Jahangiri remarked that if Sheikh Rashid had made statement Poly Clinic Hospital, then how Karachi police registered the case. The court issued notices to the bar councils, the Attorney General and the Advocate General and restrained the police from proceeding in the cases registered against Sheikh Rashid in Karachi and Hub
The court adjourned the hearing of the case till February 9.
The IHC adjourned the hearing till Feb 9.