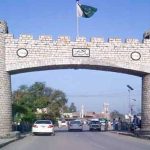 ISLAMABAD: A delegation of the International Monetary Fund (IMF) on Monday held a meeting with the Federal Board of Revenue (FBR) and Ministry of Finance officials.
During the third round of talks, the FBR and Ministry of Finance officials briefed the visiting delegation over details regarding tax revenues.
IMF asked the officers to ensure consolidated measures to make all non-filers accountable under tax net.
IMF had termed current economic condition 'unsatisfactory', during the previous two rounds of talks.
State Bank of Pakistan (SBP) governor and Federal Board of Revenue (FBR) chairman will also hold separate meetings with IMF's delegation.
Sources privy to development stated that IMF has sought contract details of game-changer China Pakistan Economic Corridor (CPEC) as West's interest continues to deepen in the multi-billion dollars strategic arrangement between time-tested allies [Pakistan and China].
Talks between two sides will continue till October 4.