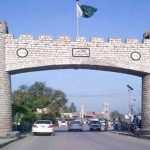 ISLAMABAD: A delegation of the International Monetary Fund (IMF) has on Wednesday arrived in Islamabad, which will assess the financial needs of Pakistan.
According to Finance Ministry, Pakistan would apprise the IMF delegation of its financial needs in a meeting to be held today.
The meeting would be attended by the IMF delegation and officials of Pakistan's Finance Ministry, Federal Board of Revenue (FBR), State Bank and others.
Meanwhile, sources said that the visiting delegation would take stock of Pakistan's balance of payment, overall economy situation and steps taken for the promotion of exports.
Let it be known that Pakistan approached IMF in October for a bailout package.