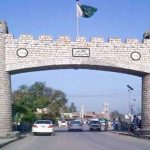 LARKANA: Chairman Pakistan People's Party (PPP) Bilawal Bhutto Zardari on Thursday said only one way leads to bright future of Pakistan that is implementation of law and constitution in its true spirit.
Addressing the newly elected members of High Court Bar Association, he said democracy saves the federation while protection of human rights and freedom of speech are crux of democracy.
He said lawyers of Larkana have played their best role to implement supremacy of law and constitution.
PPP leader said I am sure that the newly elected members would keep the legacy of excellent role played by their seniors and will ensure bright future of this country.