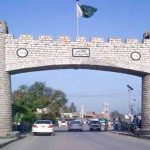 LAHORE: Imran Ali – convicted of raping and murdering seven-year old Zainab in Kasur – has challenged the decision of Anti-Terrorism Court (ATC) in Lahore High Court (LHC).
According to media reports, the administration of Kot Lakhpat Jail has on Tuesday filed an appeal against the verdict of ATC on behalf of Imran Ali.
In his appeal, Imran Ali declared himself innocent and said that legal requirements were not fulfilled in the trial against him.
He prayed to LHC that the ATC announced the verdict in haste and hence it should be declared as null and void.
It is worth noting that the ATC had awarded four counts of death penalty to Imran Ali in the rape and murder case of Zainab.
The court had also imposed fine on Imran Ali and sentenced him to life imprisonment.