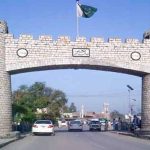 FAISALABAD: Pakistan Tehreek-e-Insaf (PTI) Chairman Imran Khan on Sunday has condemned the shoe-throwing incident with the former prime minister Nawaz Sharif happened in Lahore earlier today.
Talking to press in Faisalabad, Imran Khan said that hurling shoe or ink at someone was against the ethics.
He; however, said that Nawaz Sharif and Shahbaz Sharif were produced by the establishment.
Imran added that Nawaz Sharif had the habit of taking all (political parties) with him to win the match.
The PTI Chief further said that name of Senate's chairman was nominated from Balochistan for the first time in the history of the country.
He added that Senate's chairman from Balochistan will strengthen the federation and was also good for the provinces.
Imran Khan maintained that courts and judiciary were free, independent and impartial.