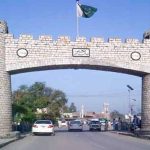 PESHAWAR: Chairman Pakistan People's Party (PPP) Bilawal Bhutto Zardari has said that Chairman Pakistan Tehrik-e-Insaf (PTI) Imran Khan feel pleasure to use abusive language for senior politicians.
Addressing a public gathering here Sunday at Badhber area, Bilawal Bhutto Zardari said that Imran Khan has no control over his language so how he will lead the nation.
He said that there is neither any idea nor program with Imran Khan to develop the country as he has failed to deliver massed in Khyber Pakhtunkhwa.
He said that all the institutions in KP were involved in corruption this is the change of PTI.
He said that those who were claiming to eliminate corruption within 90 days cannot appoint chairman Ehtisab Commission for the last four years.
He said that the PTI led provincial government did not brought any change adding that teachers and doctors are in protest on daily basis due to its wrong policies.
Bilawal said that the Kitchen of Imran Khan and Plane of Jahangir Tarin were running from the contracts of KP's people.
He said that it is keen desire of Imran Khan to get power but Khan is the person who malign politics by using abusive language.
He said that PTI chief was spending his life only to tell lie and hollow slogans bud nothing in practical.
Bilawal urged people that PPP can bring real change and to defeat those who introduced dirty politics in the country.