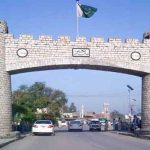 ISLAMABAD: Chairman Pakistan Tehreek-e-Insaf (PTI) Imran Khan Saturday demanded of the government to make public the report of Raja Zafarul Haq Committee mandated to probe into the amendments in the constitutional clause pertaining to the Khatm-e-Nabuwat (finality of the Holy Prophet PBUH).
Addressing the Ulema Mashaikh Conference at Golra Sharif here, he also called for exemplary punishment to those who had been involved in amending the constitutional clause which dealt with the finality of the Prophethood.
He said the nation must be told that on whose behest, this amendment was made and the conspirators should be exposed.
He said no one can claim to be a Muslim without having firm belief on Khatm-e-Nabuwat and vowed to fully defend the law.
Imran said a host of challenges were confronted by Pakistan and it was need of the hour to forge unity among the people and steer the country out of the quagmire.
He said anti-Pakistan forces wanted to opt the policy of divide and rule by fanning hatred in the society.
He sought the clerics to promote the national unity to help cope with the crisis.
Hailing the yesterday accountability court's decision, PTI chairman said that a powerful personality had been sentenced for the first time.
He said "In our country, powerful are beyond the control of institutions and only the poor are made accountable. The poor are detained, but influential and filthy rich use to roam free."
Khan observed everyone was well aware that Nawaz Sharif was telling a lie and he (Nawaz) made properties abroad worth billions of rupees on the names of their sons.
He wondered as how some people were supporting a corrupt person despite knowing facts about his misdeeds.
"Nawaz Sharif has to give accounts for Rs 300 billion he had looted."
He said the decision had proved that now no one would be spared from accountability, and the corrupt elements would have to face imprisonment.
Imran said corruption had badly damaged the country during the last three to four decades and its debt had jumped to Rs 27,000 billion from Rs 6,000 billion in just last five years.
The corrupt politicians concentrated only on personal gains of amassing maximum wealth, while country and people become poorer and poorer, he added.
"Today every Pakistani is indebted to international loans and this is because of the wrong practices of corrupt rulers".
He said dollar exchange rate had also jumped to Rs 125 due to money laundering and plundering of national wealth.
The PTI Chief also thanked Pir of Golra Sharif Pir Nizamuddin Jami for extending his full support to PTI in the upcoming general elections.