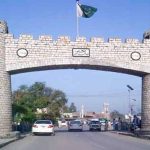 LAHORE: Chairman PTI Imran Khan has lashed out at the Election Commission of Pakistan (ECP) after arrest of senior party leader Fawad Chaudhry over the complaint of the ECP.
Addressing a press conference in Lahore on Wednesday, the PTI chairman appealed to the chief Justice of Pakistan to take notice of the arrest of Fawad Chaudhry, saying that the nation was looking up to the Supreme Court for justice. The PTI chief said Fawad Chaudhry was an important leader of the party and his detention was based on political victimization. Can calling the ECP as munshi endanger the democracy, he said, adding that about 30 cases were filed against Azam Swat over his just one tweet.
Without rule of the law, no country could make progress, he said that there is no rule of law only a "banana republic". He said that he was not afraid of the jail. He asked the nation to stand up for the rule of law and future of their children.
He said the corruption cases of of present coalition government were pending before the courts, therefore they could not detain him.