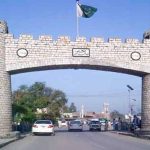 Pakistan Tehreek-e-Insaaf chairman Imran Khan on Friday said that he had prior information about an attempt on his life, adding that it was hatched by three people a day before it was carried out in Wazirabad.
"I knew about the planning of attack beforehand. They had planned to kill me either in Gujrat or Wazirabad," said former prime minister Imran Khan while addressing the nation for the first time after surviving an assassination attempt in Wazirabad.
He went on to say that he will not stop his struggle for real freedom and would hit the road for the long march to Islamabad as soon as he got better. His statement suggested that the long march has been put on hold for the moment.
At least one person was killed and several others including the former prime minister Imran and PTI Senator Faisal Javed were injured in an attack on Iran Khan's container in Wazirabad on Thursday.
Was aware of assassination plan
He added that for the past many months since he had been ousted, a concerted campaign had been run to discredit him and to muddy his reputation in desperate measures to force him off the field.
The former premier said that on March 6 or 7, heavy weaponry arrived in Pakistan for targeting him.
Elaborate assassination plan
Recalling what happened when the attack took place, Imran said that there were at least two volleys of gunfire aimed at him.
He said that after the first burst of gunfire, he was struck and he fell down.
After he fell, a second volley of gunfire was let loose and bullets flew over his head.
Pointing to how the attack came from two sides, he said that one attack came from his left while the other came from in front of him.
He added that the man who was arrested was probably part of a larger group of assassins.
Public support motivated me
Imran said that the sea of people who took to the streets after his government was toppled in April and then followed him in the streets for the long march in May buoyed his spirits and spurred him to continue his movement.
"I was surprised by the response of people, the way they applauded and motivated me, that too in the warm days of April and May."
He said that Pakistan was one of the hottest countries on earth in those days yet a massive crowd came forth and hence we announced the long march for May 25.
Demand from Army Chief
Khan urged Chief of Army Staff (COAS) General Qamar Javed Bajwa to hold "black sheep" in his institution accountable.
The stature of the army will not fall if you take action against them, he said. He went on to say that these "black sheep" were harming the reputation of the institution. He said when the army sentenced a major general for spying charges for the United States, its stature was increased.
Khan called on Chief Justice of Pakistan Umar Ata Bandial, saying that the leader of the country's biggest party was "not getting justice".
"CJP, whatever was done to me in the last six months, I can assure you it has never been done by the country even with an enemy.
Tolerance for opposition
Imran said that the opposition parties (now coalition government) thrice marched to the federal capital against us.
"We did not stop them, instead we allowed them to come without opposition because it was their constitutional right," he said, adding, "We thought that they would also allow us when they were in power but they resorted to violence."
He added that the government raided houses of party leaders and workers at midnight to arrest people and did not respect the sanctity of the home.
Imran warned that you cannot pin the biggest political party in the country to the wall.