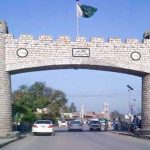 DADU, SINDH: Pakistan Tehreek-e-Insaf (PTI) Chairman Imran Khan has termed those "distributing sweets" [after the Supreme Court's (SC) verdict in Panama Leaks case] as fools adding that Nawaz Sharif was a corrupt person.
Talking to media here early morning, the PTI chief said that the apex court has rejected the letters of Qatar's prince submitted by Sharif family's lawyer in the SC.
He added that both Nawaz Sharif and Asif Zardari were corrupt persons but their processes of corruption differ from each other.
Imran Khan alleged that Zardari has stolen money from Pakistan and now "they" have taken their turn.