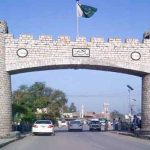 SHANGLA— Former prime minister and PTI Chairman Imran Khan on Thursday singled of announcing next phase of Haqiqi Aazdi movement on Saturday.
Addressing a public gathering in Shangla district on Thursday, he said that the country's ideology was compromised and the puppets of the US were imposed on the country through US-backed conspiracy.
The ex-premier said that the establishment must intervene to save the country from bankruptcy where, he claimed, the current rulers are steering it towards.
He added that the establishment keeps repeating that it is neutral, but the people know the real power resides with them.
PTI chairman said that the Haqiqi Azadi movement will continue till the fresh elections in the country are announced.
He said that the Soviet Union also disintegrated because of its weak economy despite having sophisticated arms.
PTI chairman said he will finish organization of the party in Peshawar till Saturday, adding that the next phase of Haqiqi Azadi movement in its rally in Dir the day after tomorrow.
He said that prime minister fears that his wealth stationed abroad would be seized if he was going to go against US.
PTI chairman criticized the government for raising fuel prices and ignoring purchase of fuel from Russia owing to US' pressure. He said that the incumbent government could not take any decision without US' permission.
He blamed the government for comprising on Kashmir issue by recommencing trade with India without revocation of its measures in disputed Kashmir.
He also claimed that the government and the Election Commission of Pakistan (ECP) have colluded for pre-poll rigging in the next general elections.
PTI chairman censured the government for violence on the participants of the long march and commended the people who faced and withstood intense shelling, only witnessed once in the country's history during martial law.
He added that such scenes were conducive to a 'new Pakistan'.