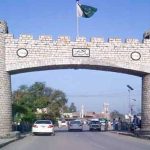 ISLAMABAD: Minister for Defence Khawaja Muhammad Asif says the government is ready to hold comprehensive dialogue for the sake of the country covering all the issues, but engaging in transactional dialogue will be a waste of time.
Briefing the foreign media along with Minister for Information and Broadcasting Marriyum Aurangzeb in Islamabad today about prevailing political situation in the country, he said Imran Khan has not offered materially anything for negotiations with the coalition government.
The Minister said Imran Khan is a desperate man and believes in violence, which he demonstrated during the last week, which was never happened even in the history of Pakistan.
He said during the past few days, the constitution was undermined and violated. He said we are handling the crisis precipitated by Imran Khan on daily basis.
Khawaj Asif expressed the confidence that the government would come out of the prevailing situation successfully including from the economic front.
Regarding allegations of Imran Khan being levelled on some personalities about killing him, the Defence Minister said these are baseless with no reality.
Replying to another question, he said holding elections is sole responsibility of the Election Commission of Pakistan. However, the security situation in the country has deteriorated and the Finance Ministry has not enough funds to hold elections separately. So, the Election Commission decided to hold the elections in October.
Answering yet another query about recent statements of the former US Special Representative for Afghanistan Reconciliation about Pakistan's internal politics and in favour of the PTI Chief, Khawaj Asif said Zalmay Khalilzad should have also spoken about grim human rights situation in Indian Illegally Occupied Jammu and Kashmir, Palestine and also about the Afghan refugees, who have been hosted by Pakistan for the past many decades and about their repatriation as well.