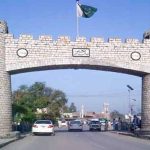 ISLAMABAD: Former secretary of Bara Kahu Union Council (UC) has declared fake a No-objection Certificate (NOC) produced by Pakistan Tehreek-e-Insaf (PTI) chief Imran Khan for his residence in Bani Gala on Wednesday.
During a hearing of a case over Khan's Bani Gala residence in Supreme Court of Pakistan (SCP), UC ex-secretary Muhammad Umer said that the authority never issued an NOC to Khan to construct a residence.
Umer maintained that he was serving as secretary of Bara Kahu UC in 2003 and Khan never sought any NOC. The office, at the time, was not equipped with digital record facility; a computer, he said.
He asserted that Khan was asked to forward a map of the location for required legal process to take its course which was never produced so the authority did not follow the case.
On the other hand, Islamabad Additional Deputy Commissioner filed a report in the case with the top court today.
The report states that at least 300 kanals of land was purchased in 2002 in name of Jemima Khan, PTI chief's ex-wife. No NOC was sought from interior ministry to purchase the land at the time, the report reads.
It further states that the land was later gifted to Imran Khan in 2005 by the power of attorney.