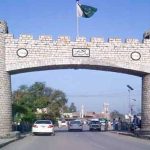 ISLAMABAD: Opposition Leader Syed Khurshid Ahmed Shah on Wednesday called Imran Khan's decision of the lock-down of Islamabad equal to a crime.
Talking to media outside Parliament House in Islamabad, Khurshid Shah said that Prime Minister Nawaz Sharif and Pakistan Tehreek-e-Insaf (PTI) Chairman Imran Khan are harming democracy.
Shah said that the prime minister when talking about the 'theatrics' of PTI chairman, he was actually signaling about someone else.
He said Nawaz Sharif with his bad governance and Imran Khan with bad opposition harming the democratic process in the country. He called Imran Khan's decision of the lockout of Islamabad equal to a crime.
The leader of the opposition said that the media cell of PML-N had leaked the details of the all parties conference and the source of the news report about a sensitive meeting might be the same, which has made an irreparable loss to the state interests.
He also advised the prime minister to nominate a senior general as the Army Chief to end speculations over the matter.