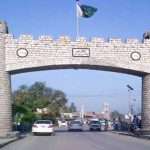 PESHAWAR— Imran Khan, Chairman Pakistan Tehreek-e-Insaf, on Tuesday hit out hard at incumbent coalition government for closing roads, and ongoing crackdown on PTI leaders and workers, saying he will leaving for Islamabad tomorrow amid arrest and section 144.
Addressing a press conference in Peshawar, Former prime minister has sought the judiciary intervention in the government's crackdown against his party workers across the major cities in the country and described the cabinet's decision of not allowing long march in Islamabad as "illegal".
"Would judiciary allow the arrests being made?" he questioned and said that permission for such actions would dent the credibility of the judiciary.
Mr Khan said there is no difference between a dictatorship and the incumbent government.
PTI chairman recalled that they never stopped the marches on Islamabad by then opposition members during their tenure.
He said there is no room of staying neutral in the prevailing situation, adding that they are aware of the history of Sharif and Zardari.
Commenting on late-night apprehensions of the PTI workers, he said it is the test of the judiciary whether they protect democracy to prosper in the country.
PTI chairman said the police abused the power and raided houses without warrants and harassed the women.