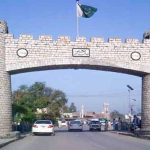 PESHAWAR: Senior Minister for Local Government Khyber Pakhtunkhwa Inayatullah Khan has said that the provincial government has taken concrete steps to revive Peshawar as "The City of Flowers".
The minister inaugurated the exhibition of flower "Chrysanthemum" (Gul-e-Daudi) at Bagh-e-Naran in Hayatabad, Peshawar.
On this occasion, he spoke with Khyber News saying that Peshawar would be revived as "The City of Flowers".
He said that, in this connection, saplings have been planted in different areas of the metropolis.