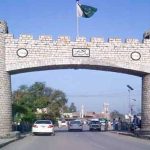 KARACHI/LAHORE: Former chief minister Sindh and independent candidate succeeded from NA-205 Ghotki, Ali Mohammad Meher has decided to join Pakistan Tehreek-e-Insaf (PTI).
Sources said that PTI leader Arif Alvi and other party members invited Ali Mohammad Meher to join their party.
Considering the invitation, Ali Mohammad Meher has arrived in Islamabad to hold meeting with PTI Chairman Imran Khan at his residence.
The PTI has also invited newly elected members of Punjab Assembly Maulana Ma'awia Azam and Aslam Bharwana to join forces with it to form government in Punjab.
Meanwhile, Pakistan Muslim League-Q (PML-Q) has turned down the request of Pakistan Muslim League-Nawaz (PML-N) for the former's support to form government in the province.
The PML-Q while categorically dismissing PML-N's request said they (PML-N) had always contacted for their own interests.
Leaders of PML-Q said they were allies of PTI and vowed to make the alliance further strengthen by supporting Imran Khan-led party in Punjab and center.
A PML-N leader and former speaker National Assembly Sardar Ayaz Sadiq had requested PML-Q for its support to form government in Punjab.
The PML-N had offered PML-Q with a seat of their will in the government; however, the latter rejected the offer.